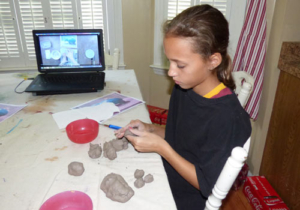 Homeschool Art and Your Day
    You know the scenario.  You're in the middle of studying a history unit and homeschool art is missing.  Oh, you've done the read-aloud books, and they were very good.  In fact when you put one book down to change the baby's diaper, the oldest child picked it up and kept reading to the younger kids.  "Yes!" you think. "Now that's the way homeschooling to supposed to work!"
     But still there is something missing.  "We need more creativity in this unit study," you think to yourself.  "I don't want my kids to grow up not knowing anything about the arts. We should be studying the great artworks of the time period, but it seems that we always run out of time or I run out of energy and resources.  I'd love for my kids to also be learning hands-on homeschool art as well, but art classes are expensive, and they never really integrate with what we're studying. I know art is important, but it always gets pushed to the side in our homeschool."
     Sound familiar?  We've all been there when we were just too tired to find a great project to link with our history curriculum, too confused trying to teach the art history, and finally, too frustrated about how to teach art when there is so much indecency.  There are only so many hours in your day, and you just fought another battle with your 9 year old trying to get him to write two paragraphs.
The Solution
     There's got to be an easier way!  That's why I created Take Time for Art.  As a 20 year veteran homeschooler, I understand your day.  And as an art teacher, I understand how to link art with history to make it meaningful for your children.  I know that you really want to do hands-on art projects.  I understand how difficult and time consuming it is to plan the lessons.  At Take Time for Art we teach the art history through video lessons that integrate with history units.  Then based on the art that your children learn about in the video, we do hands-on homeschool art projects. 
    In Ancient Egypt, when your children learn about the Ancient Egyptians practice of making mummies and covering them with a mummy mask, they study about King Tut's mask and many other Egyptian masks through great art images.  Then they make their own mummy mask out of similar materials with step-by-step video instructions.  We even supply the materials so that you don't have to run to your local craft store or hunt online for obscure art materials.  And our instruction is from a Christian Worldview.  We not only proclaim the deity of Christ, we try very hard to edit out images that might be objectionable to your family.
     At Take Time for Art, we want to make learning about art and art history both meaningful and easy for your family.  And we make it fun!  So go ahead, Take Time for Art at www.taketimeforart.com.  Check out our course on Ancient Egypt for more information: http://taketimeforart.com/ancient-egypt/