Are you studying the Renaissance time period and need some great art projects for the Renaissance to make it come alive for your children? At Take Time for Art, we're telling the story of the history of the Renaissance through art history and great hands-on art projects. The great artists are here also. There's Leonardo, Michelangelo, Raphael, and other wonderful Italian and Northern Renaissance artists. And don't forget about the projects!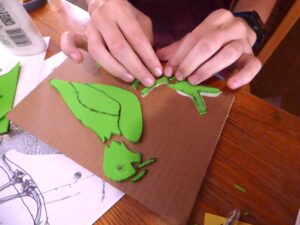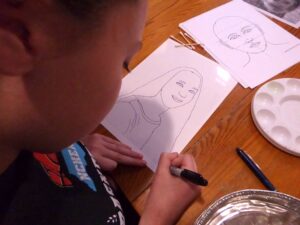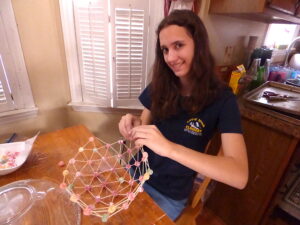 What can you expect?
As always at Take Time for Art you can expect great history told in story with great art history images.  We put the visuals in history for you and teach from a Christian worldview. That means when we study about the Florence, we show you and your children wonderful images of the work of Brunelleschi, the Medici palace, Michelangelo and more. Then, of course, we make projects based on what we see. There's a dome project after we explore Brunelleschi's dome, a perspective project when we talk about linear perspective, and we make Leonardo's parachute when we examine Leonardo and flight. Plus, when we cover the Reformation and the printing press, we make printing projects.
What art projects are included?
1.  A Geodesic Dome Project
2. A One-point Perspective Landscape (and a color wheel project)
3. Leonardo's parachute
4. A sculpture project based on the work of Michelangelo
5. A Self-portrait based on the work of Albrecht Durer
6. Two  types of relief printing based on that new Renaissance technology, the printing press.
That's seven projects total plus the color wheel! 
And don't forget about our wonderful art materials packs!
We make it easy for you to bring home great integrated art projects by giving you your choice of our Regular Art Packs that include almost all the materials you will need for our streaming video art lessons.
Or if you have arts and crafts supplies running out of your ears, you might want to choose our Essentials Packs. This pack includes only the harder to find items.
What is included in the Regular Art Materials Pack?
Sculpt-it clay (3 small packs)

*
Dots gummy candies
Toothpicks
9 x 12 Watercolor paper (4 sheets) Watercolor set
Twin tip permanent marker
Parachute template *
Watercolor markers
Styrofoam Printing Plate *
Ice cream tasting spoons *
6 x 9 printing paper (2 sheets)
8.5x 5.5 cardboard *
6 x 9 craft foam *
6 x 9  construction paper (2 sheets)
Foam paint Brayer *
8.5 x 11 clear acetate sheet *
Red, yellow, blue, and white acrylic paint 6.00
Paint tray
What is included in the Essentials Packs?
All the materials in bold print with an (*) are items in our Essentials Pack. These are the harder to find items. We've done the searching for you!I
If I purchase the Essentials Pack will I still need to supply the remaining items to complete the projects?
Yes, you will need the items without an (*) such as watercolors and watercolor paper listed above.
What ages of students work best for Take Time for Art?
Although Take Time for Art has been used successfully with younger students, we work best for ages 10  and up.  Just know that the younger the student, the more assistance they will need. And did you know you can even use our programs for high school credit?  Simply complete two of our units, keep track of your hours, and encourage your student to try the more complicated projects.  This should comprise about 60 hours of work or .5 units of high school elective credit for art.  You can read more about our high school credits here. Have more questions?  Check out our FAQs.
Take a look at our special prices!
Take a look at our product page for more information about The Renaissance.  We have a preview video and information about pricing.  Want a coupon for these products? Just sign up for our newsletter and we'll give you a great coupon here. Want free shipping?  Just purchase three art materials packs or more and automatically get free shipping
So what are you waiting for?
We truly want to help you bring hands-on art to your family and make it relevant, fun, and fascinating.  Plus we teach from a Christian world view.  So once again, welcome to Take Time for Art's the Renaissance.  As always, it's a good day to Take Time for Art!