Ah Ancient Greece!  That place of classical learning, classical literature, and classical art!  Come with us as we look into the history and art of Ancient Greece and make wonderful  art projects. 
An Integrated  Hands-on Art Curriculum
This unit on Ancient Greece will pair beautifully with your history curriculum on Ancient Greece. But it is also great as a stand-alone art curriculum for those that want to explore Ancient Cultures.  What's in our unit on Ancient Greece?  Let's peal back the layers and explore the history and art of Ancient Greece and make hands-on art projects. .   
The Ancient Minoans
First we visit the Ancient Minoans on the isle of Crete.  There we explore their myths and examine their lovely frescos.  Then based on one of the frescos we make our own watercolor using a color wheel which we also make.   
The Trojan War
Next we visit the Ancient Mycenaeans and talk about the Trojan Wars.  Not only do we hear the story of King Agamemnon, but we also look at beautiful art and objects down through the ages as we tell the story.  Then we look at Mycenaean tomb art and talk about their beautiful metal tooled objects.  And finally we make a metal tooled landscape or our own version of the iconic mask of Agamemnon.     
The Persian Wars
The Greeks were warriors!  We investigate their wars with Persians, look at the story of Esther from the Bible, and talk about the Spartans.  Then we make one of our customers' favorite projects, a Greek warriors' mask! And yes, you can wear it!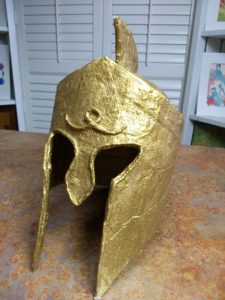 The Golden Age of Athens
Our next stop is the Golden Age of Greece. We talk about the rise of Athens in the Golden Age.  We also visit classical architecture, sculpture, and vase painting.  Then we actually make a vase painting on terracotta tile using permanent paint markers.  And yes, all these are included in our wonderful art materials packs.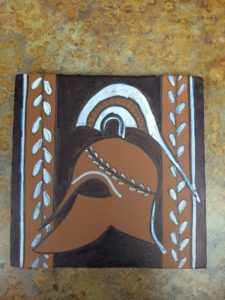 Alexander the Great
Finally, we talk about the Peloponnesian War and Alexander the Great.  It is a visual feast as we cover hundreds of years of history and art. 
Our Goal is to Help You
My goal is to help you make learning in your homeschools, classrooms and co-ops fun and fascinating.  I want to provide you with excellent visuals and hands-on projects that are real art based on real art.  We do that heavy lifting of research, vetting the art, and planning the projects.  You job is simply to provide oversight, gather a few materials that we don't supply (such as scissors and glue), and have fun with your kids!  We want to make it easy to have a great time learning with hands-on art history in your home. 
Take a look at our product page for more information about Ancient Greece.  We have a preview video and information about pricing.  Want free shipping?  Just purchase three art materials packs or more and automatically get free shipping at our checkout!
Read what others are saying in our reviews for Ancient Greece here and here.
And check our website for coupons on our art materials packs when you sign up for our newsletter!

 

It's time to Take Time for Art!